Gerber to CAD Translations,Gerber-to-CAD reverse engineering tool,Tebo CAM, Tebo-Ict Test Fixture Software, HP3070, Agilent3070,i5000,i1000,Keysight i3070,i5000,i1000,
Agilent Test Coverage Consultant,TestSight Developer, Test Expert( Fabmaster),VayoPro-Test-Expert,VayoPro-SMT-Expert
Tebo ICT V6.0 (ICT/ATE fixture software) is unique within the industry with both CAD and Gerber input of professional ICT and ATE fixture software.  Able to handle a variety of Gerber , buried blind hole, positive and negative data and with a variety of CAD interface that handles data saves time and effort, is the production of high precision and complex ICT and ATE test fixture choice.

Software Systems using open & Human design. WINDOWS COM technology structure, high reliability, easy to upgrade and maintain . Compatible with Win 2000/NT/XP/7/8/10 system, easy operation and training easier.


■ To input each kind of format Gerber information material.
Can be entered and automatically identify various format Gerber and drill hole data , including Gerber Rs274X/DPF/DXF/HPGL/Excellonⅱ. Gerber Rs-274D D code formatting information can be automatically identified reading, attached D-code file templates, store D-code format.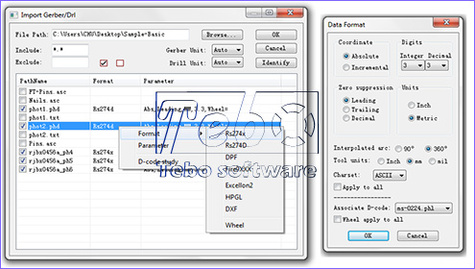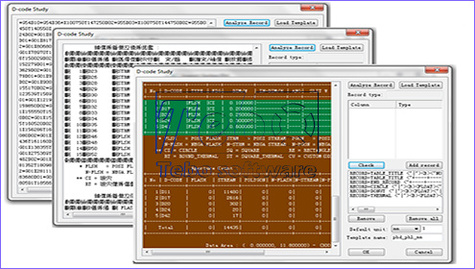 ■
Directly enter the common CAD data, Saves time.
Currently support CAD interface : ODB++,GenCAD,Cadence,FABmaster_FATF,IPC-2581,Pcad,Mentor,PADS,PowerPCB,Redac CADIF,Protel,Unidat, Zuken . Can also support IDF/IPC-356 Pin/Parts/Nails.asc

/

F

ixture file

read data into.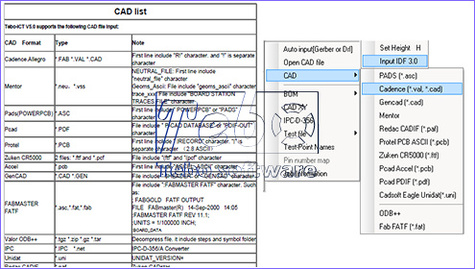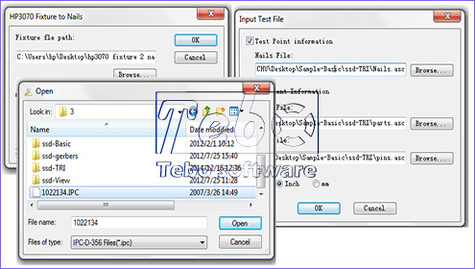 ■
Support all kinds of data output, or custom.
Supports a variety of testing programs : Agilent(Keysight),Teradyne,Genrad,Aeroflex,Checksum,Tri,Okano,Jet,Tescon,Src,Takaya,Hioki ,
Fixture data required for manufacturing: CNC Mill,Drill,Wire,Gerber,PDF,DXF and so on. Output CAD/3D PCBA format data.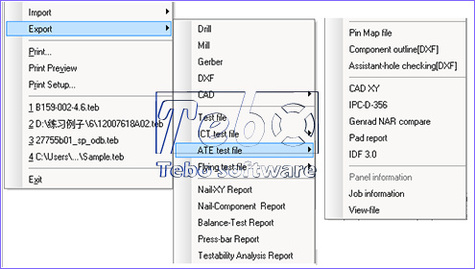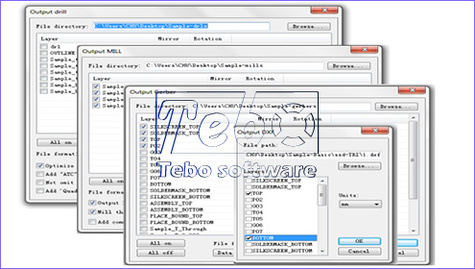 ■
Buried blind hole \ Positive and negative Gerber data.
Software for PCB layers unlimited , Capable of handling any type of buried blind hole, do not need to manually. quick, smart integration of positive and negative, with a variety of custom complex D-code editing functionality , 100% loyal to the original image.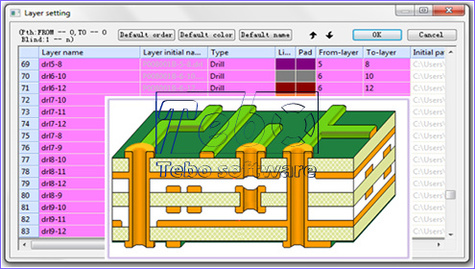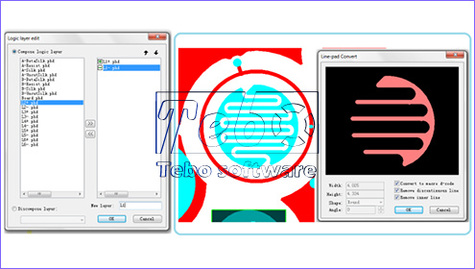 ■
High accuracy, faster network processing capabilities , Net scan the best resolution 0.1 Mil .
SMD Excluded components automatic identification VIA the connecting hole, quickly and accurately arranged BGA/IC components, such as pin (Pin) serial number feature.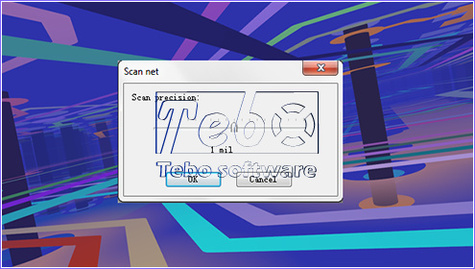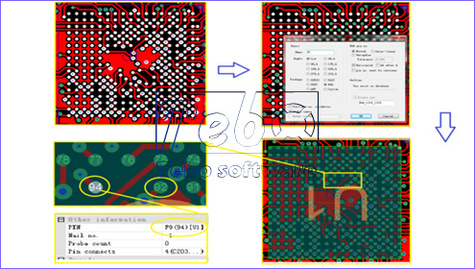 ■
Customized (Probe DB) library and TP selection of rule conditions.
Provides a wide range of needle-type databases meet the requirements of different tests and fixtures, you can set the PIN / rod with different height between elements from automatically according to the location of the measuring point distinguishing defined test the pin head type and size. 20 priority levels available. Number measuring points can be set network components and types can be selected. Increased time measuring and auxiliary measuring point, and an alternate point. Four-wire resistance points.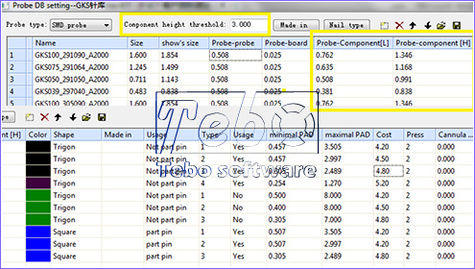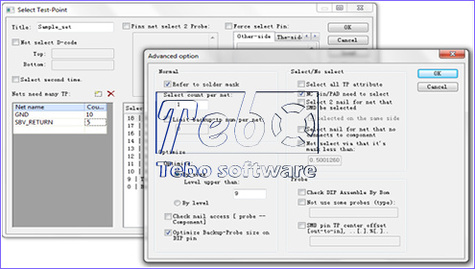 ■
Can customize a variety of auxiliary hole type and displays the shape (color).
Fixtures that can generate detailed materials ( Probe /Guide Pin/ Press bar/Gasket ect. ) report. Convenient to the corresponding fixture materials and cost accounting.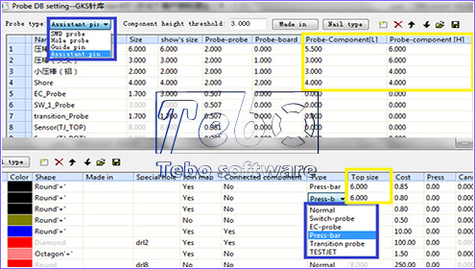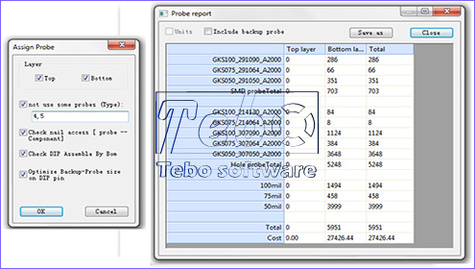 ■
Probe type editing more convenient.
SMD Component automatically offset pin on the foot. Can manually fine-tune probe drilling XY center. You can change the measurement probe shape / probe size.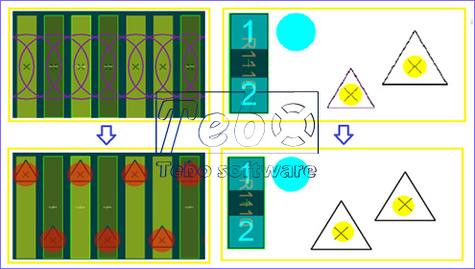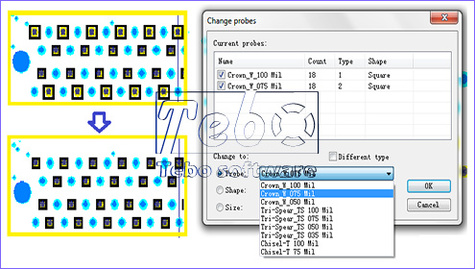 ■
Automatic adding press bar & intelligent Auto-Map function.
According to the height of the Component/ Component outline/ Press bar type/Grid spacing and balancing automatic adding press bar. Auto-map / Probe instructions marked overlap automatically check. Label sizes automatically resize, Map line editing, Segmented color markers, Display objects and colors can be selected.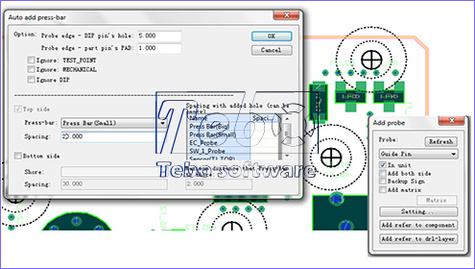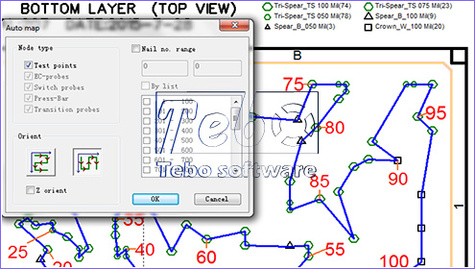 ■
Component package editing and storage reference library features.
Component outline shape editing / splitting or merging classified. Set export / import Component outline type / Component name / height / size and other information, to facilitate inspection. Unique components encapsulate library reference functions, save a measurement / inspection time , efficiency. Ensure that for each type of element ( size / height / milling) consistent , standardized.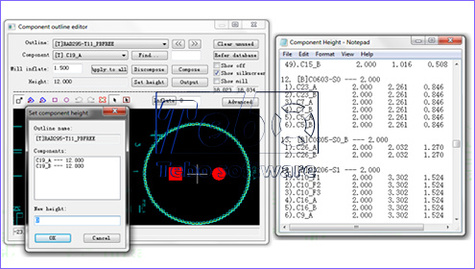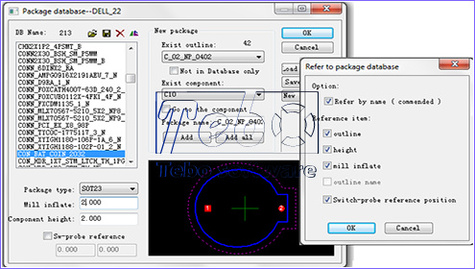 ■
Convenient BOM input & unique DRC rule check feature
Values can be read in the light component, upper and lower limits, property description, Component height information , customizable dedicated BOM into interfaces. DRC Check duplicate component name , Value is correct , Component height settings check , PIN components so on , Error reporting you can quickly find links.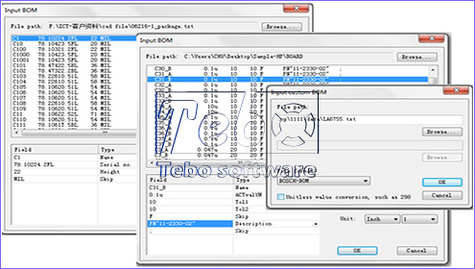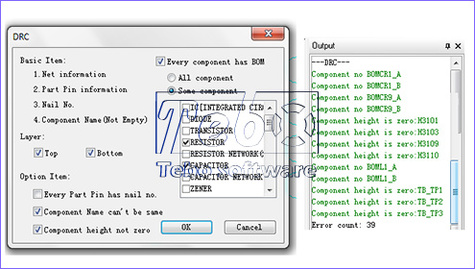 ■
Support output Mill(*. NC,*. ROU )CNC machining programs.
According to component outline ( Increase value ) component height with and automatically generates mill. Automatic synthesis of the same height / Tool duplication (overlap) milling outside the box. You can edit each milling outside the box (add / Copy / Modify / Delete).Optional cutter diameter automatically (with irregular shape) milling cutter path. You can plug-in (DIP) components of the foot, for drilling / milling files.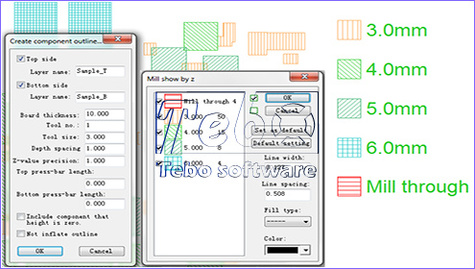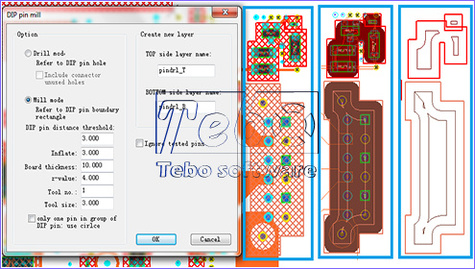 ■
Supports FT (Functional Test) and its application
Supports FT special requirements (Connector /IC chip / Network) automatic selection. Can output the corresponding probe / Map drawings and production drilling information.